Marry Christmas!
Oh wait, we haven't even gotten to Thanksgiving yet.
One holiday at a time you say. Appreciate one and then start on the  next.
On the other hand, you know if you wait until after the turkey settles you'll be rushing around juggling all the priorities of life and trying to get the mile-long Christmas To Do list accomplished without going bonkers and losing your peace and joy. When we're stressed out, in a time crunch or disorganized we often overspend money.  A lack of planning leads to last minute purchases and expenditures that we otherwise wouldn't need had we planned ahead thoroughly.
I see it every day; when clients don't properly plan for upcoming events they almost always end up going over budget and needing to pull money from other areas of saving or reach for credit cards to cover simple expenses. Getting yourself organized for Christmas is the best way to save on Christmas expenses. From gift wrap inventory to stocking stuffers you need to be organized. You see, the secret to spending less, is having a well-laid out plan.
One Holiday At A Time!
I hear you, you  are already tired of Christmas decor because 15% of retailers have been decking their halls since October 31st. Jennifer Tankersley hears you too. Her newest ebook, 30 Days to Christmas, is a concentrated version of her amazing book 100 Days to Christmas. Why? Because the reality is, you need a plan and you need to be organized if you're going to hold off on Christmas as long as you can.  Without a good plan and a way to stay on track not only will you over spend, you'll over stress.
Let's reclaim the holiday season! Less stress, less cash, more meaningful moments.
If you would really rather enjoy Thanksgiving and then focus on Christmas, or if you just really need to stay on task so you're not mailing Christmas cards on December 26th (oops), then you need 30 Days to Christmas.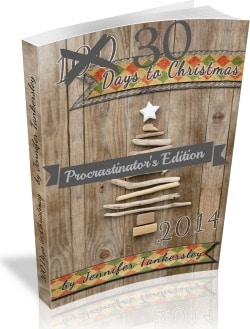 Didn't You Hear Me? 30 Days Starts Before Thanksgiving!
Yes, it does. Four days before Thanksgiving you can begin simple preparations as you work on Thanksgiving. In the early days of 30 Days to Christmas you aren't "doing" so much as you are "planning".  Your getting the December calendar in order, finalizing the budget plan shopping an working on Wish Lists. Jennifer guides you through what you need to do early on so that as you draw closer to Christmas your foundation is well-laid.
The reality is, you may not want to think about Christmas before Thanksgiving but the key to keeping things low stress and under budget is to be well organized and that, my friends, takes time. Ten or 15 minutes a day the few days before Thanksgiving could make the difference between budget success and budget busting.
A Peek Inside 30 Days to Christmas
Jennifer outlines a great plan for getting everything from Advent to milk and cookies for "Santa" ready. What I really love is that, not only does this book walk you through ideas of what to do and when, there are printables like Holiday Budget Planner, Gift Lists, Wish List, Advent Activity Planner and more.  It's true, you should already have a Christmas budget long before November 24th but this planner will help you keep all of your gifts within your over all budget. The lists are great because you can use them electronically or print them. I'm an in-print kinda gal so some I typed up, then printed and others I printed blank to fill in.
Want to see more?  Take a look at the 30 Days to Christmas: Procrastinator's Edition excerpt.
A well organized, thought out plan will help you keep your sanity and some cash in your wallet.  30 Days of Christmas can help you do both and it takes the guess work out of planning, so if you're not a natural planner/organizer that's one less thing to stress about!
Don't miss out on List Planit's Black Friday sale that starts 11/24/14 – 50% off everything!