I was never an asparagus fan. Actually, I was never a vegetable fan at all. But things have changed around here and quite frankly asparagus is a pretty darn good food.
I have made these asparagus fries not only as a side dish but also as a snack for Wyatt and I. (okay, for me really but he wanted some and who is going to tell a child they can't have vegetables!)
Oven Roasted Asparagus
10-12 asparagus spears 2 eggs, beaten
½ cup bread crumbs ½ teaspoon salt
½ teaspoon pepper 1 teaspoon parsley
Trim root end of asparagus and cut each spear in half.  Thicker spears should be cut in half length-wise to ensure even cooking.
Place eggs, beaten in a medium-sized bowl. In a separate bowl or plate mix salt, pepper, parsley and breadcrumbs together.
Dip spears into egg mixture and then breadcrumbs.  Place on greased pan and bake at 375-degrees for 15-20 minutes until desired crispness is reached.    
This is one of the recipes in The Veggie Book: How to Pick, Prepare and Plate that I recently published with three wonderful ladies. The Veggie Book features 10 veggies and has over 50 recipe plus information on nutrition, preparing and storing various veggies.
These are great dipped in the Herbed Dipping Sauce (found on page 43 of the book).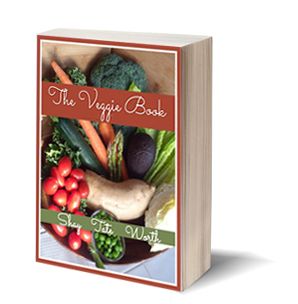 Get your copy of The Veggie Book for only $9.95.
Shared: Little Natural Cottage